Your First Visit
  _________________________________________________

Upon Your Arrival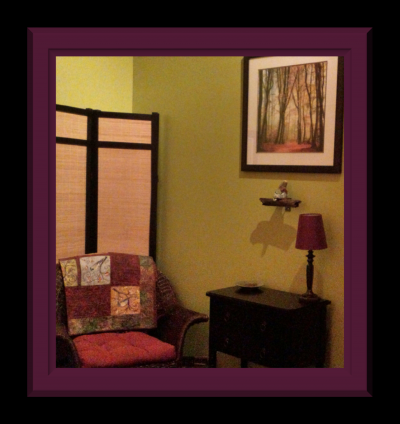 On your first visit, arrive 10-15 minutes early to complete a Client Intake Form or refer to the Client Intake Form Tab to print and complete the form prior to your session.  The information that you provide will assist with offering proper treatment. On subsequent visits, arriving early will provide you the opportunity to unwind, relax and enjoy quiet time. 
The therapist will discuss your concerns and treatment. Â 
Once in the treatment area, you will have privacy to undress to your comfort level. 
During Your Treatment
Treatment time will be 60 or 90 minutes.
If you choose to disrobe, then you will be completely draped

(covered) with a sheet except for the part of your body receiving treatment.
You can talk if you like or not say a word. 
The therapist may ask about the level of pressure, any tenderness she notices etc.  Let her know if you are experiencing any discomfort.
Breath, relax and enjoy!
After Your Treatment
Privacy will be provided for redressing.
Water will be offered to prevent dehydration.

You and the therapist will review observations and a suggested treatment plan.